Is time running out to find a last minute gift for someone close to you?
Finding a special present for someone who has it all is no easy task.
You run the risk of them already having the item you're thinking about buying, not needing it, or even disliking your gift entirely.
Fortunately, a gift hamper is the safest option to easily please and Gift Hamper Addiction provides unbeatable value you won't find anywhere else through:
Our Small Biz approach that ensures each order receives the care you'd expect it to…

The method we use ensures your gift hamper arrives into the right hands even at multi living areas such as a Nursing Homes, University, or X…

A simple solution so your gift hamper is opened when you intend it to be opened…

Our company belief (and personal beliefs) in true value for money…

Customised gift hampers loaded with whichever gifts you choose 

Buying quality Australian made products that helps our country thrive in difficult times
Read on and you'll discover how we make each of these possible…
Our small team takes pride in their work meaning each hamper is hand-packed with the same love and care you would use when sending a gift to your relatives or close friends.
And if the person you're sending the hamper to lives in Bendigo we'd be happy to deliver the hamper directly to them, just give us 1 business day to organise it* We're even open to helping you connect by sending you a pic to show the smile on their face.
*(Exception being Peek & Holiday Season – December 1st – Feb 28th)
Sometimes not all gifts arrive at Nursing Homes, Universities or Apartment Complexes?
We go to extra effort in making sure that your gift hamper finds its way to the right person by contacting reception ahead of time and following up again later to make sure they've happily received it.
It's a terrible feeling when someone you love has forgotten a day that's special to you which is why we believe it's our moral duty to provide this service to our customers without charge.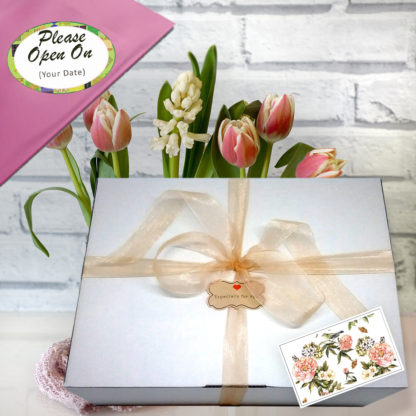 Why Your Gift Hamper Will Be Opened On The Right Day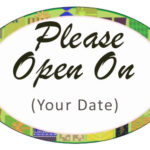 Want absolute certainty that your gift will be opened on the correct date? We can apply a "Please Open On…" post bag label at no extra cost. Great for early ordering.
Just enter the desired open date in the comment box at the bottom of the order page and we'll put the dated label on the parcel.
From there, you can rest easy knowing it will be opened exactly as you intend and not a week early, ruining the surprise.
We believe that big things should come in small packages! Unlike many other companies where you find less product but a whole lot more packaging and filling, our affordable hampers will easily surprise whoever you send them to with the sheer volume of gifts inside! All without compromise as we support quality artisan Australian made goods, foods and drinks.
Every hamper has a carefully planned packing sequence meaning each one is filled to the brim with goodies while still avoiding the risk of damage thanks to the eco friendly wood wool we use for protection against both impact and friction.
Build Your Own
Custom Hamper
Can't find a pre-made hamper that suits your requirements?
Create a totally unique and affordable hamper from our selection of premium quality goods with ease, all from the comfort of your own home.
We have a wide variety of foods, drinks and beauty items suited for both men and women of any age.
You can choose from a small or large hamper, 1 of 4 different organza ribbon colours, and the message inside the complimentary gift card. 
"I loved how I was able to create a personalised hamper for a friend. The website is easy to use and the service is personal and just fantastic. The friend who received the hamper was delighted! Thank you!"
"Excellent service! Quick preparation and delivery of a personalised gift hamper and great communication with me as the customer. A nice selection of gift items too."
"This was intended as a gift and was received with great pleasure. The seller was particularly helpful in resolving a problem which arose in the ordering process and I would have no hesitation in using the service again if required. Most satisfactory."
"Really happy with the personalised service and response from this business. They went out of their way to make sure the custom hamper was what we wanted and that it got delivered to the right place as soon as possible. I highly recommend them."
"Purchased as surprise gift for elderly relative who was absolutely delighted with quality & appearance of items. Money well spent"
"Wonderful service and recipient very happy with their gift - Thank you"
"Good product and no hassle even though I was ordering from the UK. Thank you"
"Friendly and easy to deal with, i contacted with a question, they got back to me straight away. Even threw in an extra item as a gift. Very Happy"
These days, a box of chocolates and a card feels like an afterthought…
Gifting your immediate family, relatives and closest friends one of our affordable gift hampers has a meaningful and lasting impact, bringing an enjoyable surprise with your personal touch thanks to an included personalised card – at no extra charge.
Our vast range of Christmas hampers, birthday hampers, gifts for him or her, large gift hampers for family, and DIY custom hampers are filled with foods, wines (popular non-alcoholic options available) and beauty and bath products that are certain to satisfy anyone of any age. We source most of our foods and drink gifts here in Australia. Australian made is important to us wherever possible! 
To get started shopping for a truly special unique and affordable Australian hamper box, simply select a hamper from a category below, then let us know what you'd like written inside one of our complimentary gift cards and desired open date at the comment box at the bottom of the order page. 
If you have any questions or concerns then feel free to get in touch with us via our Instant Chat between 9 – 5 AEST, via email, fill out a contact form, or read our comprehensive FAQ section.
-The Gift Hamper Addiction Team